Kandy doesn't just have a singular mountain standing out from the rest of the peaks, but a few beautiful set of mountain peaks which together form the lovely mountain ranges of Kandy.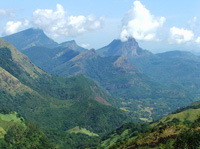 The Hanthana Mountain range and Knuckles Mountain range are significant topographical characteristics found in Kandy. While the former has been declared an environmental protection zone, the other consists of a series of folds which give it a knuckle shaped appearance. 
The Hanthana Mountain range is made up of various peaks which make this mountain a high solid favourite of mountain hikers. At 3,800 feet above sea level, the mountain also has the University of Peradeniya neighbouring it.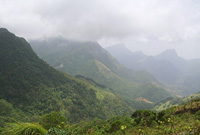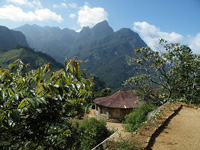 Knuckles Mountain range has a number of folds and peaks to the West which, when viewed from a certain distance, looks like a clenched human fist. Admittedly the name was given by the British while the local people still called it Dumbara Kanduvetiya.
The name is derived from the Sinhalese translation of 'mist laden mountain' which goes quite a distance in accurately describing the climate of the mountain – mostly covered in thick layers of cloud. The massif of the mountain is said to be the meeting point of all the climatic patterns in Sri Lanka. It also contains a great range of animal and plant life; some of which don't exist elsewhere in the world.
In fact these features attract a large number of tourists who are especially enthusiastic about trekking and camping. The physical features along with the bio diversity are explored by these groups as the overall ambience of the mountain is absorbed.
In fact the trails and other trekking features provided by the topography are considered the absolute best by trekkers. The mountains are also blessed with waterfalls, fresh water streams, and magnificent caves, which make the experience of visiting these mountain ranges, truly fascinating.